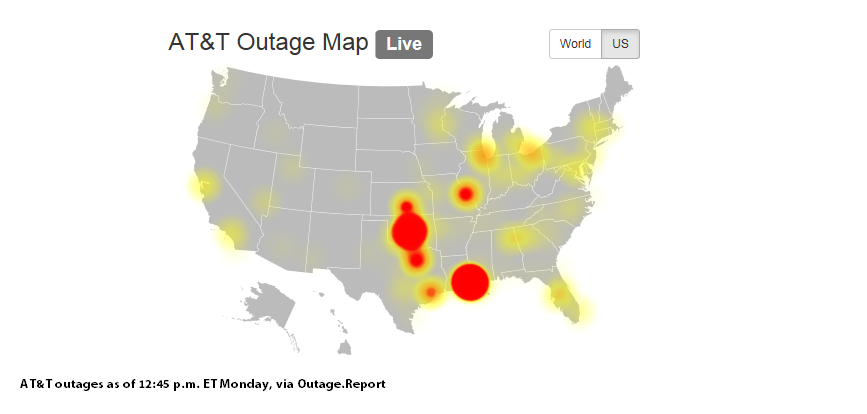 AT&T wireless customers in Louisiana and Oklahoma continued to face service disruptions Monday after initial outages in those areas were reported by customers over the weekend on Twitter and Outage.Report.
The service issues – which were trending on the social media site under the hashtag #ATToutage – appeared to be concentrated in Oklahoma City, Oklahoma and the flooded area of Baton Rouge, Louisiana.
Louisiana is currently experiencing historic flooding that has driven more than 10,000 people to shelters and necessitated the rescue of more than 20,000 across the southern part of the state. Louisiana Governor John Bel Edwards on Friday declared a state of emergency due to the flooding.
AT&T wireless customers on Sunday began widely reporting outages, especially in the Baton Rouge area, but the outage was not immediately acknowledged publicly by the carrier on its main or customer care accounts on Twitter.
AT&T's customer care account – under the handle @ATTCares – did respond to individual customer complaints, though. The carrier said service in the area was down "due to severe weather conditions" and said it was "working diligently to restore service."
Customers took to Twitter in droves, expressing their frustration at a lack of general communication from AT&T about the outage.
"Wow," user Chris Frink tweeted. "Just got more info from @LouisianaGov on outage than we've had from you."
Edwards during a Sunday press conference said AT&T's Choctaw Drive switching facilities in Baton Rouge had been damaged by the flood waters. The carrier was assessing the damage to determine how quickly service could be restored, Edwards said.
According to Edwards, AT&T was considering sending out a mobile switching facility to help restore communications, but noted the unit would come from out of state and would thus "take a while to take place."
Edwards said the outage "does present a problem" for rescue operations because it impedes communications from both people trying to get help and those trying to give it.
In a statement to Wireless Week on Monday, AT&T said it's restoration work at the flooded Baton Rouge switching center was continuing "around the clock."
"As progress is made during these efforts, service will return for some customers and others may continue to experience intermittent service," the carrier said. "We are deploying resources including generators, Cell on Light Trucks (COLTs) and Emergency Communications Vehicles (ECVs) to help restore service as quickly as possible."
To help those with patchy service, users on Twitter passed around advice to impacted AT&T customers to turn on their Wi-Fi calling feature to facilitate communication.
As of 2:30 p.m. ET Monday, AT&T said wireless service had been restored for the "vast majority" of customers in Louisiana.
The carrier said it will continue working to complete its repairs and is planning to deploy "additional equipment to aid emergency personnel."
On Tuesday evening, AT&T said it was working to restore service to wireless customers by rerouting traffic to a nearby facility. AT&T said its Network Disaster Recovery team had also deployed more than 10 satellite Cell on Light Trucks (COLTs) and Emergency Communications Vehicles, as well as a mobile command center to help with network coverage around the Baton Rouge area. AT&T said since the equipment is mobile, it can be moved as needed. Further restoration efforts would continue, the carrier said. AT&T said
The carrier has also set up an Emergency Communications Vehicle to provide public Wi-Fi at an evacuation center in Gonzales, La. AT&T said its stores were also offering both customers and non-customers device charging services and use of phones to update friends and family.
An AT&T spokesman said the carrier's network is carrying "record levels of network traffic in the Baton Rouge area as many people try to contact loved ones" and recommended texting when possible since it uses fewer network resources than calling.
In Oklahoma City, AT&T said customers experienced intermittent issues with their wireless voice service on Sunday and Monday morning, but said the issue had been resolved by noon on Monday. The carrier apologized for the disruption and said it will continue monitoring its network in the area.
Sunday and Monday's outages in Louisiana and Oklahoma came on the heels of a massive outage on Saturday that impacted AT&T customers across a large swaths of the Northeast and Midwest including New Jersey, Ohio, Illinois, Indiana, Kansas, Pennsylvania, Kentucky, Kansas, Missouri, Minnesota and a number of other states.
The details of that outage were not immediately available, the Dayton Business Journal reported.
Editor's note: This story has been updated with the most recent information from AT&T about service restoration in Louisiana.