By combining 5G, network functions virtualization (NFV), software-defined networking (SDN), and cloud-based platform business models, communications service providers (CSPs) believe they can move beyond providing just connectivity to become ecosystem curators and enablers of many different verticals—from smart cities to connected cars to the industrial Internet of Things, and more.
"I think a platform approach is mandatory," said Kees van Peer, Technology Strategy and Transformation Advisor at PLDT in the Philippines. "We believe that defining 5G as just another air interface is too narrow. For us it's not so much about the air interface; it's about the complete transformation of the architecture into something that is highly agile, highly scalable and highly automated."
5G is exciting because it promises to enable CSPs to deliver a wide range of new services. However, all these services will need to be delivered on the same network, with very different impacts on the way network resources are consumed. Operators are counting on the flexibility of multi-tenant platforms to manage and monetize the services. With 5G, this is expected to happen through network slicing.
Operators can already create network slices in a virtualized 4G mobile core, but 5G adds the capability in the radio access portion of the network. This makes it possible to create a slice at the edge for a low-power application where sensors have limited battery power or for a very low-latency, high bandwidth application like augmented reality.
What are the challenges?
Implementing a 5G platform model won't be easy. Most of the CSPs and suppliers interviewed within a recent report on platforms and 5G (61 telecom professionals from 52 unique companies were surveyed) echoed van Peer's comments about the importance of taking a platform approach to 5G. However, the research also found some significant challenges standing in the way of success, chief among them a lack of support from top management, cultural and organizational issues, and lack of standards.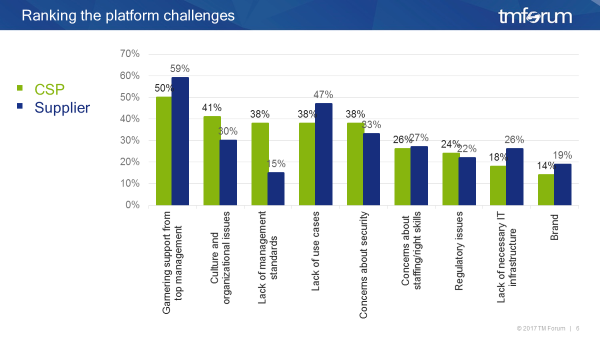 Support at the top is key
Half of CSPs and almost 60 percent of suppliers put garnering support from top management in their top three platform challenges. Adopting a platform strategy is a radically different approach for telcos, one that requires collaborating with customers to develop services, encouraging experimentation and learning from failure. This takes courageous leadership.
CSPs are used to having an integrated model where they try to do everything on their own and fight the over-the-top players. Now they must learn how to position themselves in someone else's value chain, and they need leaders who can show the way. Management also must understand that platform business models are a long-term investment.
Culture shock
Related to leadership are cultural and organizational challenges. Just over 40 percent of CSPs ranked this in their top three challenges. Most telco organizations are organized hierarchically, and their operations are methodical, manual, and slow to change. The average age of a telco employee is over 45. Digital natives, by contrast, have operations that are much more automated and agile, using DevOps practices—and they employ many more millennials. The average age of a Facebook employee, for example, is 29.
To become digital platform providers, CSPs must actively work to change corporate culture. This often means doing away with hierarchy and rules. One company we interviewed allows employees on the digital side of the business an extraordinary amount of freedom. They can work when they want, wear what they want, and come and go as they please. This is a radical change for telcos.
What about standards?
Lack of standards for and consensus about how to handle management is another top concern for delivering platform-based services. About 40 percent of CSPs put it in their top three challenges in our survey, and when the rankings were averaged overall, it topped their list of concerns.
CSPs see end-to-end orchestration as a key component of their strategies to become platform providers: Multiple orchestrators in multiple software platforms must communicate through application program interfaces (APIs) with each other and with other network and infrastructure components to deliver and assure services. In many cases, these components will be in someone else's domain – another CSP's, a supplier's, a platform partner's or an enterprise customer's.
CSPs must agree to use the same information and data models along with standard APIs to make this happen. This, combined with intent-based management, is how they will automate service provisioning and management end to end – the intent-based management abstracts the complexity of the network at a high level, then uses a customer's intent along with assurance, analytics and policy to manage it.
It is unlikely that the industry will coalesce around a single common information or data model; rather CSPs and their suppliers likely will adopt a few including open source models and then federate or map them to one another.
Interestingly, suppliers are much less concerned about standards — only 15 percent ranked it as a top concern. This is a bit surprising given that many suppliers talk publicly about their commitment to standards and open source.
If standards really are a lower priority for suppliers, it could signal their preference to continue selling proprietary solutions to CSPs. This is an unrealistic expectation, however. Operators have made it clear that they want to eliminate vendor lock-in.
The key to future success
It is important that CSPs and their suppliers change their mindset and accept that the network must become virtualized and cloud-based in order to build digital ecosystems. Operators can no longer trust in revenue that lies solely in connectivity.
While the challenges ahead are significant, CSPs are well placed to become digital ecosystem curators and enablers. To do so they must seek out partnerships, embrace standards and open source technology, and adopt a DevOps culture of continuous innovation. Doing so is key not only to increasing revenue, but to surviving in a fast-changing digital world.