The autonomous delivery arena has welcomed another player, FedEx. The company recently unveiled its FedEx SameDay Bot, an automated delivery service designed for same-day, last-mile transport.
FedEx will team up retailers, such as AutoZone, Lowe's, Pizza Hut, Target, Walgreens, and Walmart, to fulfill hyper-local customer orders with the bot. Although the target area is small, quite an ample market exists, with FedEx reporting more than 60 percent of merchants' customers living within 3 mi of a store's location.
"The FedEx SameDay Bot is an innovation designed to change the face of local delivery and help retailers efficiently address their customers' rising expectations," says Brie Carere, executive vice president and chief marketing and communications officer for FedEx. "The bot represents a milestone in our ongoing mission to solve the complexities and expense of same-day, last-mile delivery for the growing e-commerce market in a manner that is safe and environmentally friendly."
Although FedEx already offers same-day delivery in 32 markets and 1,900 cities with FedEx-branded vehicles, the bot is meant to complement this service.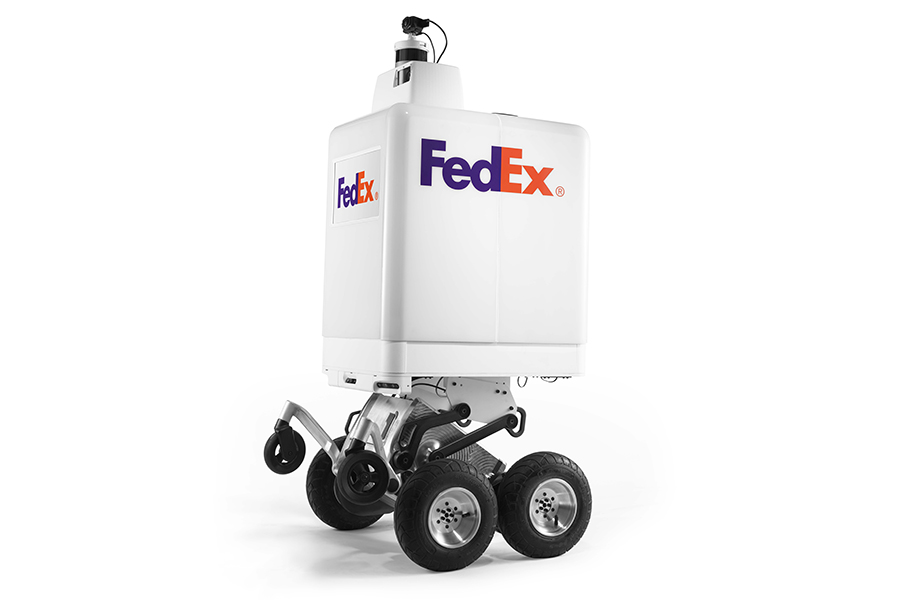 DEKA Development & Research Corp, and its founder Dean Kamen, are helping with the FedEx bot project. Kamen's previous inventions, the iBot™ Personal Mobility Device and the Segway®, served as stepping stones for the current robotic endeavor.
"We built upon the power base of the iBot, an advanced, FDA-approved, mobility device for the disabled population with more than 10 million hours of reliable, real-world operation. By leveraging this base in an additional application, we hope that the iBot will become even more accessible to those who need it for their own mobility," Kamen says.
The FedEx SameDay Bot packs a number of features, including:
iBot's pedestrian-safe technology.
Various cameras and lidar sensors.
A zero-emission, battery-powered system.
Machine learning algorithms that detect/avoid obstacles, plan paths, and allow safe travel on sidewalks and roadsides.
Proprietary technology for navigating unpaved surfaces, curbs, and steps for door-to-door delivery.
The robot will start trials during the summer months in Memphis Tenn., and other select markets. During the test campaign, the bot will travel between FedEx office locations.
FedEx falls in line with many other companies trialing cutting-edge delivery solutions, such as Amazon's fully electric, self-driving robotic package delivery system named Scout.