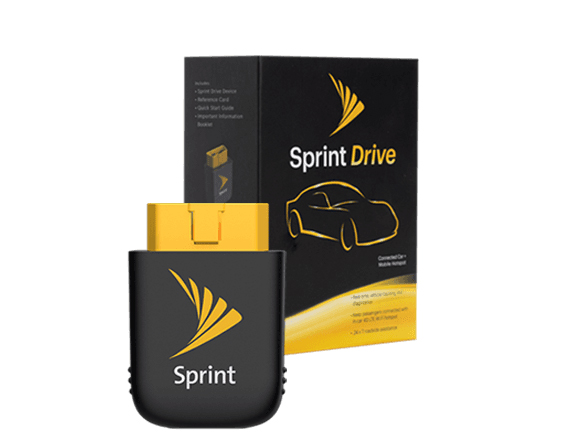 Sprint looks to steer customers toward its new connected car product ahead of Black Friday, offering customers "Sprint Drive" for free as part of a holiday promotion that requires a 24-month installment plan and qualifying data plan.
The carrier's wireless connected car device plugs in near a vehicle's steering column and provides a 4G LTE WiFi hostpot. It can deliver real-time vehicle location and diagnostics monitoring to a user's smartphone, as well as connectivity for 24-hour roadside assistance. Roadside assistance calls are capped at four maximum per year.
Sprint is offering two service plans: Sprint Drive Unlimited, which costs $25 per month, per line with Unlimited Mobile Hotspot or Sprint Drive 2GB, which costs $10 per month, per line with 2 GB of mobile hotspot data.
The device itself is $120, or $5 per month for 24 months without the holiday promotion (which starts Nov. 21).
Passengers can connect up to eight devices using the mobile hotspot, and business owners can use Sprint Drive to monitor up to 25 vehicles.
Sprint Drive also features a trip history and alerts for actions like hard acceleration and braking, and alerts related to vehicle performance and health. It also features a hotline for mechanic advice, according to the carrier.
Sprint is the latest of the major carriers to offer a connected car product. Verizon's current plug-in connected car device is called Hum, while T-Mobile's SyncUp Drive solution launched in 2016.
Speaking at an investor conference last week, T-Mobile CFO Braxton Carter said the SyncUp product "really resonated with the consumer both from a postpaid and prepaid standpoint."
Sprint said its connected car product is powered by Harman Ignite, an end-to-end automotive cloud platform.
In late September, AT&T exclusively started offering Harman Spark to deliver a suite of connected vehicle applications.