T-Mobile leads the pack when it comes to fastest mobile speeds across the country, as rivals Verizon and AT&T also boost speeds, but struggle under the weight of unlimited plans, according to Ookla's 2017 U.S. Market Report.
The report is based on more than 14 million consumer-initiated cellular network tests performed on nearly 3 million unique mobile devices during the first half of 2017.
Ookla indicated that over the past year average mobile download speeds in the United States increased 19.2 percent to 22.69 Mbps due to technology improvements and usage of available network spectrum. This is a decrease from the 33 percent year over year growth seen in Ookla's 2016 report. Average mobile upload speeds improved to 8.51 Mbps, up 4 percent from last year, but a much slower improvement than the 28 percent increase between the first half of 2015 and first half of 2016.
However, while all four major carriers increased download speeds, some are doing better than others and not every region is seeing the same benefits.
T-Mobile snagged the top spot as the fastest U.S. carrier for the first half of 2017, with a speed score of 23.17. Speed scores are a comprehensive metric that incorporates low-end, median, and top-end performance for both download and upload speed. Verizon came in second at 21.13, with AT&T close behind with a speed score of 20.05. Sprint came in last, scoring 15.39.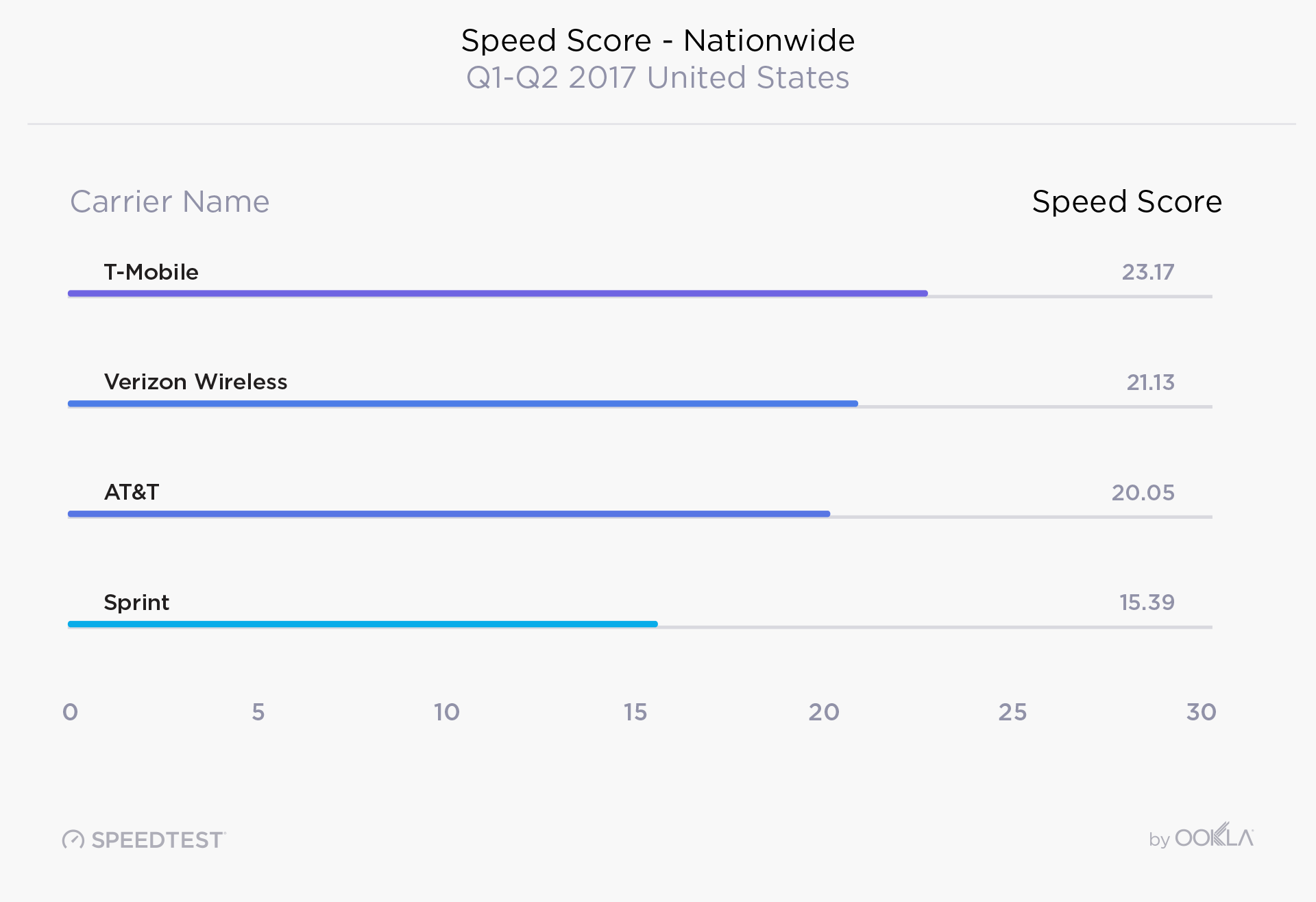 "The combination of a tightly-spaced cell site grid and a smaller subscriber base than Verizon and AT&T could be the keys to T-Mobile's success in the U.S. market and to their ability to support the exponential growth in mobile data consumption," Ookla said.
The firm also noted T-Mobile has been leveraging 700 MHz spectrum to expand its LTE footprint into new markets.
This year Verizon has been pushing forward with efforts to densify its network with small cells and light up new spectrum.
"Utilizing LTE-Advanced technologies like Three Channel Carrier Aggregation, Verizon has been able to maintain solid performance in areas of high traffic, though a drop in performance has been seen since Verizon launched Unlimited," Ookla noted.
While AT&T has been able to keep up with increased consumption, Ookla noted there was a notable drop in performance coinciding with the carrier's expansion of its Unlimited plan.
However, customers may not be feeling the slowdown, as a recent J.D. power study showed unlimited customers report fewer problems than their tiered-plan counterparts. More on that here.
Even still, AT&T performance has shown improvements over the last few months, which Ookla attributes to deployments of LTE in the 2300 MHz band, 700 MHz supplemental downlink, and refarming of existing spectrum assets after the recent GSM sunset.
"AT&T still has a lot of room for incremental capacity gain with rollout of 4×4 MIMO, 256QAM, License Assisted Access (LAA), and other LTE Advanced Pro features," the authors wrote.
Meanwhile, while Sprint came in last place, the carrier made significant improvements compared to the same period last year, the report finds. The company's mean download speed increased 23.7 percent between December of 2016 and June 2017.
The report contends that Sprint is well positioned for additional improvement given its massive 2.5 GHz spectrum portfolio.
Speed in urban areas and acceptable speed ratios
Ookla also broke down mobile performance in the 100 most populated Cellular Market Areas (CMAs), and the ranking still held up with T-Mobile in first, followed by Verizon, AT&T, and Sprint.
Even though T-Mobile remains on top the gap between first and second place shrinks significantly, with T-Mobile receiving a 23.5 speed score and Verizon scoring 23.21. AT&T and Sprint scored 21.17 and 16.2, respectively.
All of the carriers speed score improved in the most populous CMAs compared to countrywide numbers, with Verizon speeds 7 percent faster, AT&T and Sprint both increasing around 3.7-3.8 percent, and T-Mobile up just 1.5 percent.
Ookla noted that Verizon's large footprint in rural areas could pull down its nationwide performance numbers since they hold a larger market share in difficult to serve areas. Of all the rural area samples the report collected, Verizon accounted for 51.6 percent of them, while AT&T accounted for 27.3 percent, T-Mobile made up 11.5 percent, and Sprint 9.6 percent.
Verizon for its part said crowd sourced data is flawed and can say different things depending how one looks at it.
"These tests confirm that we have phenomenal coverage across the country, the largest LTE network – roughly 750,000 square miles more coverage than T-Mobile – and great speeds," Mike Haberman, VP of Verizon Network Operations, commented on Ookla's report. "While these flawed crowd sourced tests don't show how reliable a network is, other scientific studies do – and Verizon is the clear leader."
The report also looked at a metric called acceptable speed ratio. Consumers typically need mobile download speeds of at least 5 Mbps to do things like stream HD video without buffering, and view most content. Ookla ranked the carriers' based on its acceptable speed ratio, which measures what percentage each of the carriers' test data samples reached or exceeded the 5 Mbps threshold.
On a national level T-Mobile was slightly ahead of Verizon, with 78.1 percent, compared to the latter's 77.8 percent. However, that reversed when looking at the top 100 CMAs, where Verizon's ratio was 79.8 percent, compared to T-Mobile's 77.9 percent.
AT&T comes in third both countrywide and in urban areas, with speed ratios of 75.9 percent and 76.5 percent, respectively. Sprint once again trails behind, with 64.9 percent nationally, and 66 percent in the top 100 CMAs.
When it comes to cities, T-Mobile once again in the lead, according to Ookla, as it was the fastest carrier in 40 of the 100 most populous U.S. cities. Verizon was fastest in 35, AT&T was top in 20, and Sprint carried five.
Fort Wayne, Ind., had the fastest average mobile download speeds at 36.64 Mbps, in a city that Verizon carried. North Las Vegas was the city with the slowest download speed on the list at 15.36 Mbps, which is 32.2 percent slower than the national average. AT&T carried that city.
Data consumption is only expected to grow, and carriers will need to find ways to increase capacity, Ookla indicated.
"In order to deliver more bits per second per hertz, mobile network operators will have to continue densifying their networks by adding more cell sites, enable key features such as 4-Layer MIMO and higher order modulation, and accelerate the use of greenfield licensed and unlicensed bands," the authors wrote. "In addition, backhaul provisioning and infrastructure vendor rate limiting licenses will likely have to be boosted to support faster data rates."
Smartphones will also play a key role in network efficiency, the firm noted, saying existing gigabit LTE devices can significantly increase the overall spectral efficiency of the networks.
"It will be in the best interest of carriers to foster adoption of as many of these devices as possible."