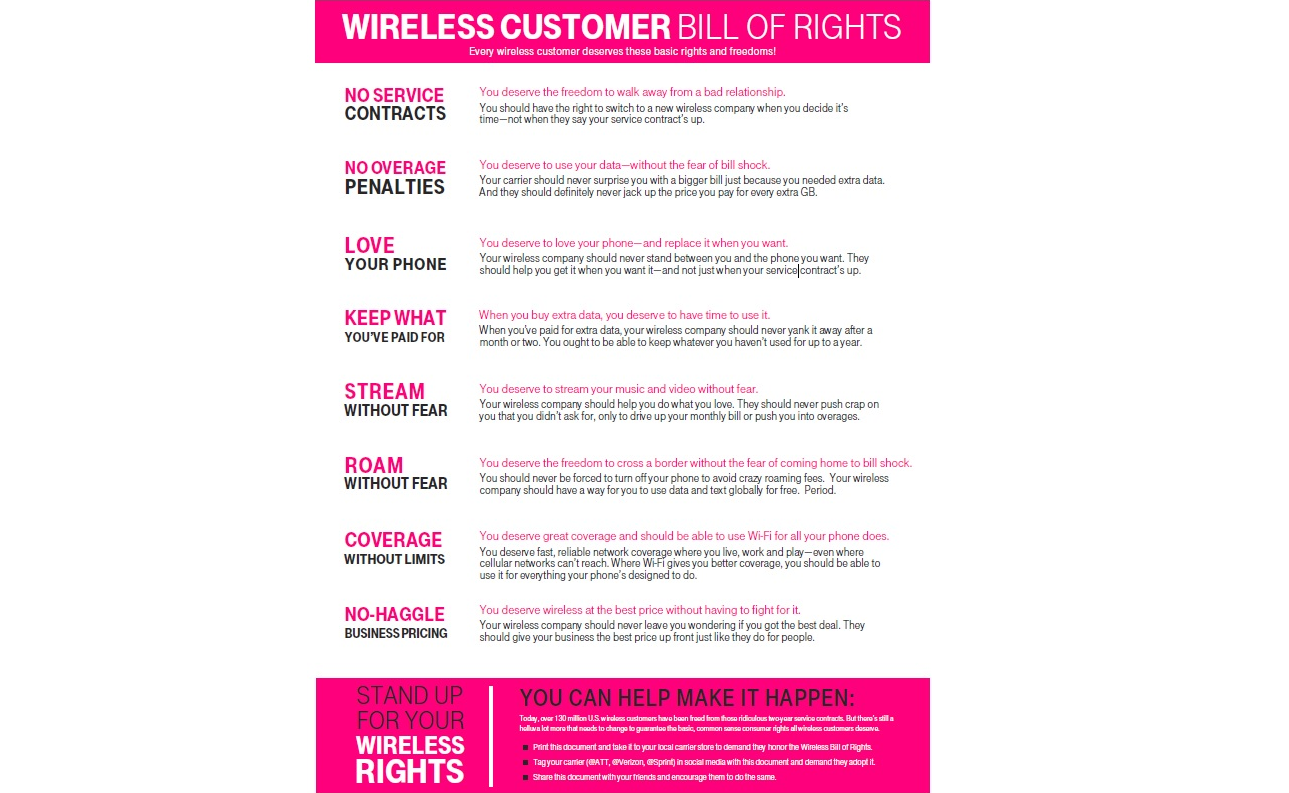 In a move characteristic of the Un-carrier, T-Mobile on Monday unveiled a "Wireless Customer Bill of Rights" that encourages consumers to fight back against common restrictions and fees in the wireless industry.
The bill includes eight main tenets, including the "rights" to no service contracts or overage penalties, love your phone, keep what you've paid for, stream and roam without fear, have coverage without limits and secure no-haggle business pricing.
At the bottom of the document, T-Mobile encourages wireless customers to bring a print out of the bill to their wireless store and demand to have their "rights" honored. The Un-carrier is also encouraging customers to tag Verizon, AT&T and Sprint on social media to demand those operators adopt the bill as well.
"Dumb and Dumber won't change unless we force them to change," T-Mobile CEO John Legere said in a video blog post accompanying the document's release. "They don't seem to care that their customers deserve better, that they have some basic, common sense rights. So here's what we're going to do. We're going to stand up for your rights whether you're a T-Mobile Customer or not."
The move comes as T-Mobile celebrates the third anniversary of its Un-carrier initiative.
Launched in March 2013, T-Mobile's Un-carrier rebranding effort came alongside the launch of its new LTE network. For its first trick, the Un-carrier ended device subsidies and introduced no-contract wireless plans.
In its latest Un-carrier reveal in November 2015, T-Mobile introduced its Binge On mobile video streaming service, which allows users to watch unlimited video from participating services without the content counting against their data bucket.
Though the service was initially the subject of questions surrounding its compliance with net neutrality rules, Binge On has successfully attracted more than 50 video partners. Earlier this month, T-Mobile hooked its biggest fish when Google's online video site YouTube agreed to join.