The wireless power industry surged in 2017, as the popularity of wireless charging grew quickly with manufacturers and consumers. In September, Apple made its long-awaited entry into the industry when it announced the iPhone 8 and iPhone X models would offer wireless charging. With Apple's Q4 sales volumes added to the totals, almost 500 million smartphones and other devices with wireless charging functionality were shipped in 2017, according to research firm IHS Markit.
The Apple announcement was a key inflection point because it effectively established Qi as the standard for low-power, low-frequency wireless charging solutions (see sidebar for other options related to power and frequency). As a result, Qi has become a topic of interest among product development teams looking to incorporate wireless charging into their designs.
As experts in wireless power systems engineering, the NuCurrent team fields inquiries about Qi frequently. We thought it would be helpful to share some key questions and a flowchart to guide a discussion and frame out the options.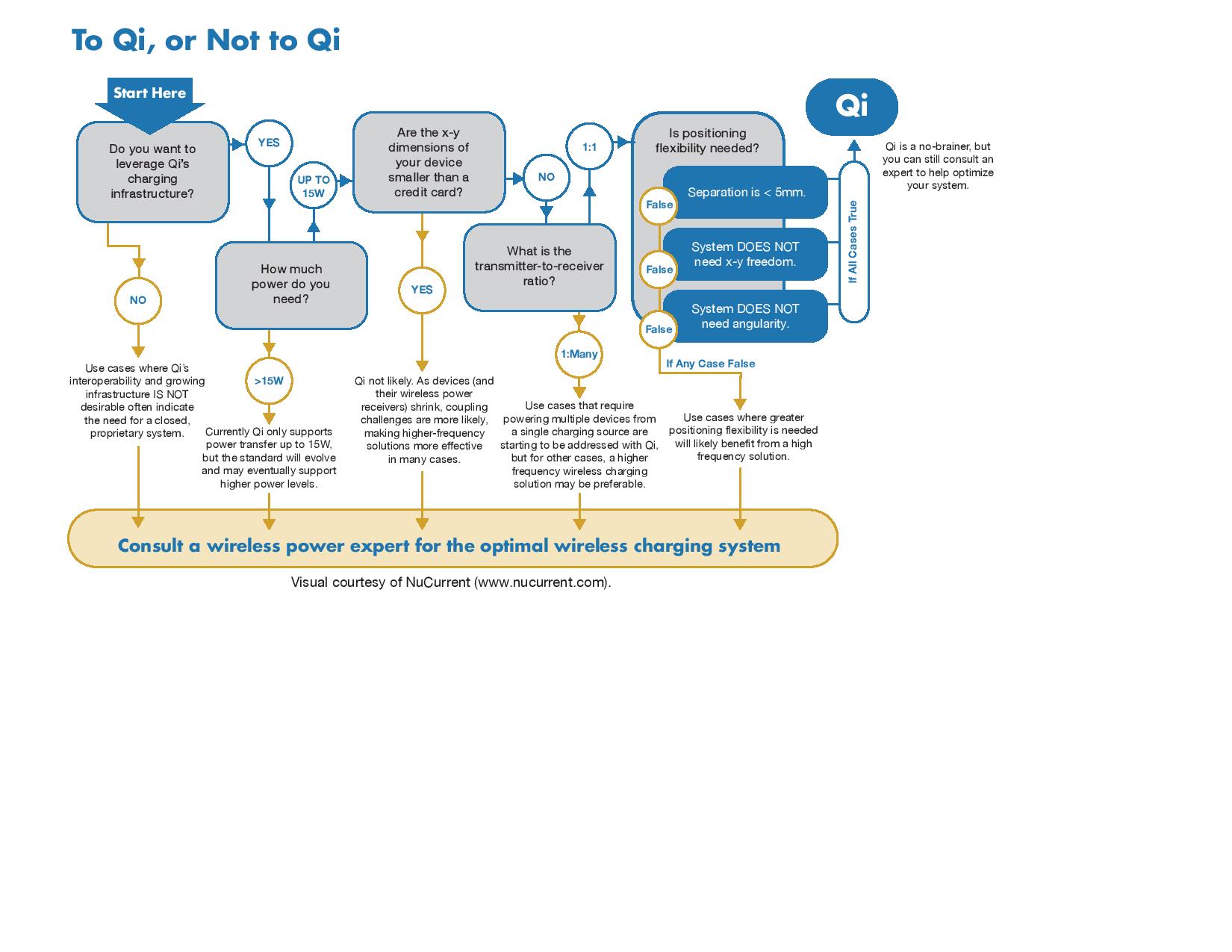 Do you want to leverage Qi's charging infrastructure?
This may seem like a trick question, but some developers (e.g. industrial computing) will not want their products out in the open charging in a hotel lobby or coffeehouse. These applications will likely warrant a closed or proprietary wireless power system. However, if you have a consumer-focused product, the growing infrastructure for Qi charging and its inherent interoperability make a strong case to develop within the standard.
How much power do you need?
If your product needs up to 15 W of power, it is a viable candidate for Qi. However, if your product requires more energy, a Qi-derivative or fully proprietary solution may be required (at least for the time being, as higher power Qi specs are actively in development up to 60 W).
Are the x-y dimensions of your device smaller than a credit card?
Much of Qi's early development was created with mobile phones in mind. As a result, some of the strongest use cases are for devices that are thin, flat, and have x-y dimensions larger than that of a standard credit card. Devices that are smaller in the x-y dimensions can run into challenges with coupling (i.e. mismatching, dropping), which can increase thermal rise, depending on the device's power. In those cases, a high-frequency solution may offer a better performance and improved user experience.
What is the transmitter-to-receiver ratio?
Qi-based power transfer requires tight coupling between a transmitter and receiver coil. Historically, we have seen that Qi solutions work best when there is a one-to-one relationship between transmitter and receiver. To address multi-device charging needs, some Qi charging solutions are being developed, where there are multiple transmitters (aligned in a multi-coil array) inside a single charging surface. As wireless power technology evolves, the one-to-many experience for Qi devices may improve.
However, in many cases it makes great sense to power multiple devices from a single transmitter (e.g. hearing devices). In these cases, a low-power, high-frequency solution will perform better because it allows for a more versatile, one-to-many relationship between transmitter and receivers.
Is positioning flexibility needed?
As previously mentioned, Qi-based solutions require tight coupling between the transmitter and receiver. Therefore, it also becomes important to think about the positioning of the devices when charging. In particular, you should consider:
Separation: vertical distance between the transmitter and receiver.
Lateral (x-y) Freedom: lateral distance between the transmitter and receiver.
Angular Freedom: angular distance between the transmitter and receiver (particularly important with non-flat devices).
If you have a separation of 5mm or less and don't need x-y freedom or angularity, then Qi continues to be a viable solution for your product. If that's not the case, you'll want to consult a wireless power solutions expert, and consider a non-Qi, low-power, high-frequency solution.
Bringing it all together
In examining these questions, you can see there are some circumstances where it immediately makes sense to develop a Qi-based solution. However, based on certain aspects of your product and/or use cases, it may make sense to develop outside of the Qi standard. Whichever the case, wireless power engineering is a multidisciplinary process involving RF, power electronics, component design, mechanical design, simulation, and test and regulatory work. Due to its complexity, you may want to consider consulting with an expert to help identify the right path for a high-performance, optimized system.
Sidebar: Inductive Solutions versus Resonant Solutions
Qi is an important option when considering wireless charging, but it's not the only way to go. Qi-based charging provides "low-power, low-frequency" energy transfer up to 15 W, operating frequency of 110-220 kHz, and operates on the principles of induction. This requires that the transmitter and receiver be coupled tightly with only a few millimeters of separation from one another—which is why Qi is so well-suited for thin, flat items with low power requirements like smartphones.
What if you have a use case for your product that requires higher power, greater positioning freedom, small receivers, or one transmitter charging multiple devices? For those cases, the recommended approach often is to develop systems that operate at a higher frequency (e.g. 6.78 MHz) and employ resonant technology for energy transfer. While Qi is the clear favorite for most low-power, low-frequency solutions, resonant systems open the doors to low-power, high-frequency solutions and high-power, high-frequency solutions.