Just when you thought service contracts had seen the sun set on their dying day, the classic two-year agreement has sprung forth again.
It seems Sprint this week has revived its two-year contract option, which on Friday was listed as a payment option alongside 24-month installment billing, leasing and full retail pricing on the carrier's website.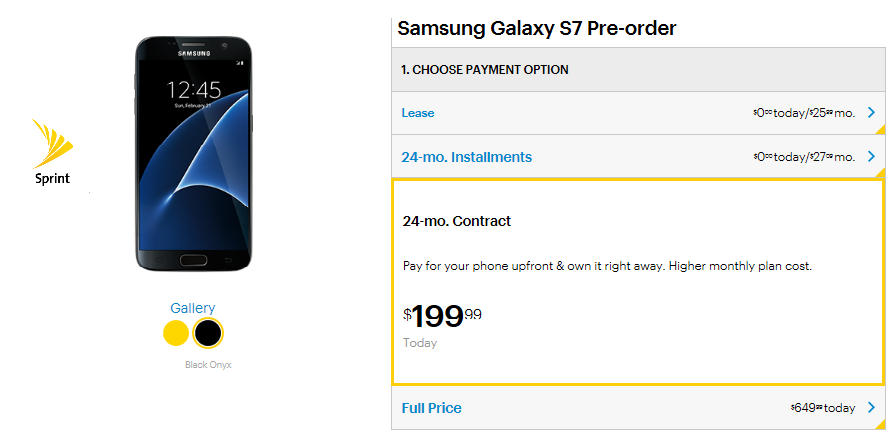 For the Samsung Galaxy S7, the two-year contract offer brings the cost of the device to $199, down from a full price of $649 or monthly installments of $25.99 or $27.09 on Sprint's lease and installment options, respectively.
According to Sprint, the contracts are back by popular demand.
"We listened to our customers and are giving them more choices to get their new device," a Sprint spokeswoman said Friday. "Sprint is the only carrier to offer the most choices to obtain a new device – lease, installment bill, two-year contract or pay full retail price."
The move comes just a month and a half after Sprint became the last of the tier-1 wireless carriers to do away with the contract option. T-Mobile was the first to kill contracts in 2013, and was followed by Verizon in August 2015 and AT&T in December.
For T-Mobile, AT&T and Sprint, the shift came amid a push toward device leasing options and equipment installment plans. Verizon, however, has steered clear of device leasing, opting instead to focus on installment billing.
As far as the S7 is concerned, Sprint's decision to bring back contract pricing puts it in line to compete with U.S. Cellular, which announced earlier this week it would offer the device for $199 with a two-year contract. U.S. Cellular was previously the only carrier offering the new Samsung devices on a two-year contract option.