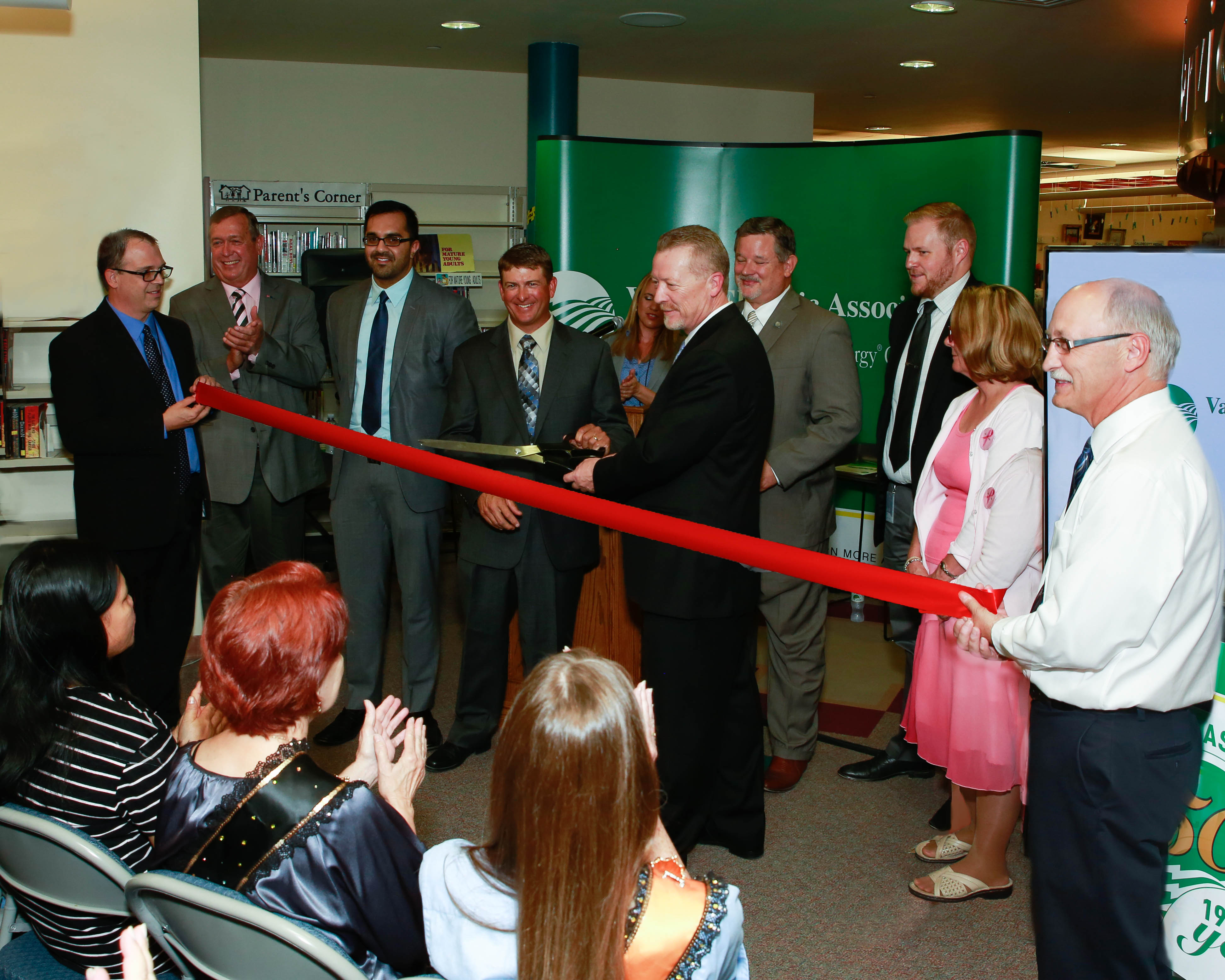 Valley Electric Association, Inc. (VEA), a member-owned electric cooperative headquartered in Pahrump, Nevada, recently hosted a ribbon-cutting ceremony to commemorate the launch of its optical fiber broadband communications service in southwestern Nevada at the Pahrump Community Library. The library is the first facility to receive service through VEA's advanced optical fiber network. VEA will eventually provide broadband service across its entire service territory, which spans 6,800 square miles, offering download speeds of up to 1 gigabit per second.
The event included presentations from VEA leaders, Nevada Assemblyman James Oscarson, Rep. Cresent Hardy, Zachary Heit from the Office of Governor Brian Sandoval, Faraz Khan from Sen. Harry Reid's Office and Pahrump Community Library Director Susan Wonderly, in addition to a special video message from Reid.
The event served to raise awareness of VEA's efforts to provide high-quality broadband service across its service area while building Nevada's first all-fiber community. The first phase of the broadband initiative will include a significant portion of Pahrump, in addition to Fish Lake Valley. Construction is currently underway for the first phase of this project. Residential prices will start at $49.95 per month, with service provided through VEA subsidiary Valley Communications Association.
VEA connected the Pahrump Community Library to its optical fiber network for free, and the cooperative will provide service to the facility at a speed of 1 gigabit per second. More than 21,000 community members utilize the local library for Internet access each year.
"This improved broadband service will provide the library and the entire Pahrump community with improved capabilities to access the wide range of content and valuable educational resources available on the Internet," said Tom Husted, CEO of VEA. "This library represents the beginning of VEA's broadband initiative, serving as a starting point for an innovative new service that will improve the quality of life for community members while promoting economic development and creating new local jobs."
In his video message during the ribbon-cutting event in Pahrump, Reid expressed his pride in VEA's forward-thinking efforts.
"Valley Electric is located a long way from the bright lights of the Las Vegas Strip, but the work that has been done by Valley Electric over the past many decades has been really exemplary." Reid said. "I'm so impressed with the work that they've done."
The broadband launch event represents a significant milestone for VEA, as the cooperative expects the new revenue generated from the optical fiber broadband service to promote future rate stability for the cooperative's member-owners.