A new Retail Index report from Verizon found that though the typical spike of e-commerce traffic remained consistent in the days surrounding the Thanksgiving holiday, average daily mobile traffic actually decreased overall from 2014's figures.
In indexing the traffic for the holiday, Verizon used a baseline value of 100 points to represent the average daily traffic rate – meaning, for example, that a measure of 102 on the graph would indicate average daily traffic was two percent above average.
According to the report, this year's mobile traffic spiked at 109 points on the Wednesday before Thanksgiving. That total was down slightly from the same day in 2014, though wireline Internet traffic attributed to online shopping activities on the same day increased by three points to 105 from the same day in 2014.
The second highest mobile traffic day came, somewhat predictably, on Black Friday, which topped out with a score of 106 points. That score was fairly consistent year over year, Verizon said.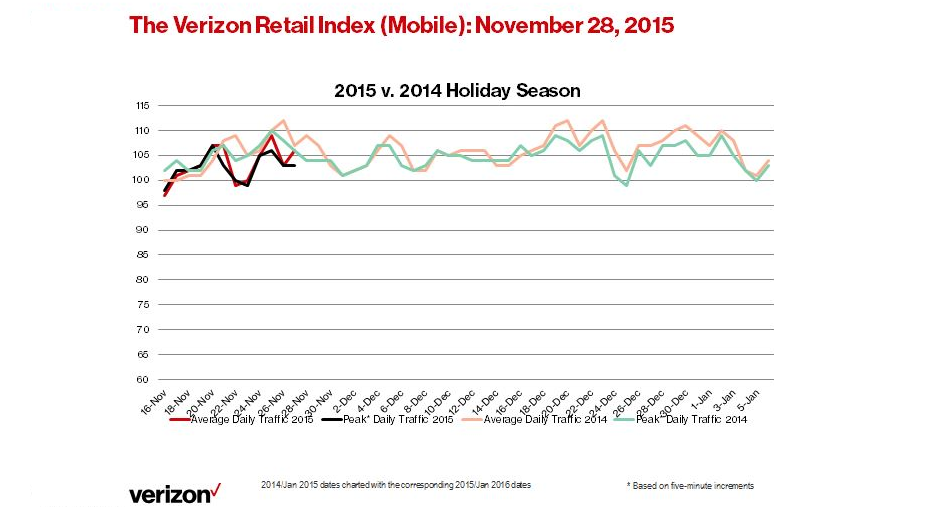 Interestingly, the study, which also looked at broadband traffic, found that holiday shopping has become more dispersed throughout the holiday week and is completed through multiple mediums.
"Early indicators show a strong balance between online, mobile and in-store engagement by consumers," said Verizon Enterprise Solutions vice president of retail, hospitality and distribution Michele Dupré. "Shoppers were out in force on Black Friday and others were also taking advantage of the early online offers that retailers extended to entice consumers who weren't up for battling the mall crowds. The 'sneak peek' Cyber Week offers are proving successful in getting people to shop and browse, and now the race is on for retailers."
Following a pattern seen in both 2013 and 2014, Dupré said the 2015 findings show that the flexibility of mobile and e-commerce options is permanently changing the holiday shopping game. The traditional kickoff to holiday shopping, Dupré said, no longer occurs on a single day – or through a single channel.
"As our findings show, the holiday shopping season is a marathon and not a sprint," Dupré said. "The winners will be the retailers who can engage consistently with customers and convert this engagement into sales and profit."
In its 2014 iteration of the study, Verizon found that holiday shopping activity extended well into December, with a huge spike in traffic occurring on December 17 as consumers snapped up last-minute deals. The frenzy continued beyond the Christmas holiday, the 2014 results show, as consumers jumped on after-Christmas and New Year's sales. Internet holiday hopping traffic spiked in the first week of January with a score of 137 points on January 4.