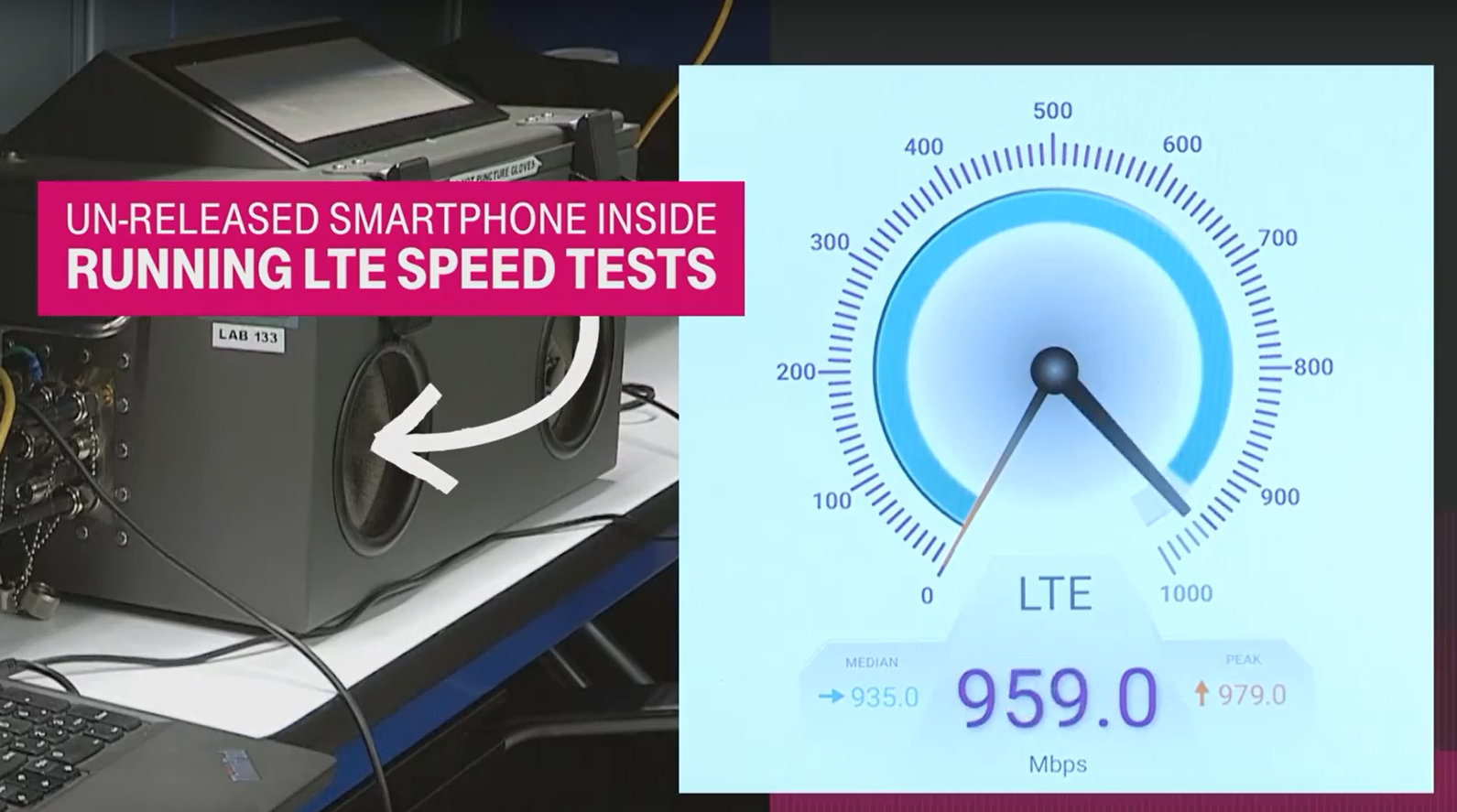 Could T-Mobile be planning to roll out gigabit LTE sooner than we think?
The short answer is we don't know for certain, but bear with me for a second. I have a few more pieces of the puzzle in hand.
Back in December, we documented the results of T-Mobile's gigabit LTE trial, which used three-carrier aggregation, 4X4 MIMO, and 256-QAM to hit 979 Mbps. At the time, T-Mobile was mum on the details, but at CES last week, Nokia outed itself as one of T-Mobile's partners in the test. Nokia said the trial utilized its 4.5 G Pro technology and noted Bands 2 and 66 were used for the aforementioned three-carrier aggregation. Great.
When I reached out to T-Mobile for more information, they noted Ericsson was also part of the trial. Hmm. Keep that tidbit in hand.
There was still no word, though, on the "un-released smartphone" inside T-Mobile's test box. Until now.
I don't have the name of the device, but Qualcomm has confirmed the test phone was running its new Snapdragon 835 processor with its gigabit class X16 LTE modem. That news was tacitly confirmed by T-Mobile CTO Neville Ray on Twitter, and Ray mentioned in an interview at CES that the lab work done in Bellevue also included gigabit discussions with chipset and handset vendors.
Still with me? OK, here's the link I see.
I know many of these large industry players work in various interconnected webs with the carriers and each other on a number of projects, but the Ericsson/X16 combo reminded me of an announcement Qualcomm made at its 4G/5G Summit back in October.
At the time, Qualcomm, Australian carrier Telstra, Ericsson, and NETGEAR unveiled the first gigabit class LTE mobile device (NETGEAR's MR1100 mobile router) for Telstra's gigabit-ready network (which is enabled by Ericsson). That device was expected to become available to customers within a few months.
My hunch is that T-Mobile is working on something similar to beef up its network with Nokia and Ericsson, only instead of working to develop a router it's looking for a gigabit-capable smartphone from Qualcomm and a mystery handset vendor (or vendors). And it won't have to wait long.
Qualcomm said the Snapdragon 835 processor is in production now and is expected to ship in commercial devices in the first half of 2017. The only question is will T-Mobile's network be ready for it?
On the record at CES, Ray said the first sighting of 1 Gbps being used will be sometime this year or in early 2018. But Ray also said in a December blog post "T-Mobile will absolutely be first to gigabit speeds," and it's no secret both Sprint and AT&T are gunning to get there as well.
I say T-Mobile is looking to get there sooner rather than later, but we'll see.