We asked leading companies and manufacturers what the future of wireless technology would look like for 2019. Here's what they had to say:
By Sean D'Arcy, director, Aerospace and Defense, Analog Devices, Inc.
Several RF and Microwave Technologies Will Drive the Industry Forward in 2019
The industry will continue to move toward technologies that have higher levels of integration and flexibility to enable multiple use sub-systems. Reusability drives down cost, but more importantly, accelerates time to market. Manufacturers' reuse of the same hardware and software, as well as accumulated engineering knowledge across multiple platforms, mitigates risks and allows for rapid reconfiguration.
2019 will see significant investments and design supporting massively parallel MIMO designs. Adoption will drive increases in data capacity and coverage in developed nations.
Research and Development Is Top of Mind with 5G on the Horizon
Before 5G becomes available on a global scale, RF technologies will meet critical checkpoints in performance. Of great importance is the availability of spectrum, whether it be low-, mid-, or high-band. In sub 6 GHz, the coverage layer will be built on massive MIMO using existing infrastructure followed by densification. Small cell deployments will be more critical to 5G roll out taking advantage of the higher frequencies.
As 5G continues to grow in relevance, everyone from component suppliers to service providers will be increasingly forced to manage their costs and respective business models. 5G promises orders of magnitude improvement in data capacity, however, it comes at the expense of added equipment complexity and higher costs.
Innovation and Breakthrough Will Continue in Aerospace & Defense
For aerospace and defense companies, RF and microwave systems will continue to push higher into the spectrum. As threats increase it becomes important to address both enemy and friendly operations up to 130 GHz.
In addition, current innovation in the architecture of RF and microwave transceivers greatly increases flexibility through software defined features, and vastly improves packaging density to reduce size. These features have significant positive impacts on many defense systems, including smart munitions applications. We will continue to see these innovations develop and be further refined in 2019.
Increased focus on extending battery life for soldier systems will drive down power management requirements for all types of military communication systems. A move toward balanced transceiver cores along with better power management systems will be critical in this drive.
By David Su, chief executive officer, Atmosic Technologies
A 2018 study from ABI Research predicted there will be 35+ billion connected Internet of Things (IoT) devices worldwide by 2023. With so many devices connected to the IoT, one of the primary areas of focus in the upcoming year will be finding effective ways to create sustainable power to enable the industry vision of widespread implementation of the IoT. Lower power consumption in IoT devices through enhanced design techniques, process technology scaling and improvement, and optimization/customization of design with the ideal functions will be a growing trend.
Lower power consumption will enable the advancement of another trend, improved battery life. This advancement along with improved architectural design, such as on-demand wake up receivers, will lead to longer lasting battery life.
This reduction of power will ultimately lead to "forever-batteries." We will see portable devices in which the batteries will last the duration of the product's life. Even disposable batteries will be powerful enough to last the entire lifespan of the average IoT device, thus reducing battery waste and maintenance.
The last major trend we will see in the coming year is boosted implementation of IoT energy harvesting, indoor usage of photovoltaic, forever-battery creation via motion and RF power, and "battery-free" devices. RF energy harvesting will be a viable solution to power low dB IoT devices without the use of batteries or wires. In the past energy harvesting could only work with very short-range applications, but with the implementation of Bluetooth 5, range is now comparable to that of WiFi.
By Jim Beneke, vice president, Engineering and Technology, Avnet
As we move into 2019, there are a number of technologies and engineering challenges that will continue to dominate the spotlight. Yet, my prediction for 2019 is less of a prediction and more of a wish. Wireless connectivity is a common thread in many of the growing technology trends. My wish is for the industry to simplify, streamline, and cost reduce the regulatory and certification requirements of the various wireless solutions that are helping to drive this growth.
For the billion-plus smartphones in use today, the calls we make, the texts we send, and the data we consume just works. We can travel the world, and as long we are willing to pay for it, we have global connectivity at our fingertips. The story is very different when it comes to cellular-based IoT deployments.
The first challenge is finding an embedded LTE/LTE-M/NB-IoT modem module with global band support. Next, make sure the module has the global certifications needed for the countries your IoT device will be deployed in. Third, be prepared to perform various regional, country, and carrier certifications on your end IoT product. Finally, you need to find a carrier or set of carriers that will enable your devices in the desired countries, with the throughput and data usage required. All said, you are looking at $100K+ in certification costs and three to six months of certification testing and documentation. Of course, you can take the cell phone approach to IoT devices and purchase a more integrated solution that already has all this accounted for, but this goes to the root of my wish—why does this need to be so costly and time consuming?
Perhaps cellular is an exception? Surely something as ubiquitous as WiFi must be much simpler? Not really. Again, if you want to go the route of designing your own custom solution, there are significant hurdles to jump when it comes to country specific testing and certifications—FCC, IC, CE, SRRC, MIC, WPC, RCM, just to name a few. Global radio certifications for WiFi radios require over 50 different tests and reports and can easily exceed $100K, or twice that for dual band 2.4GHz/5GHz.
These are just two examples off a growing list of potential wireless solutions for IoT, AI, and ML applications. The industry has responded to the certification complexity and cost challenges with more integrated and pre-packaged solutions. These are much needed and very useful, but they are really masking the underlying issue that is not being addressed. For the rapid growth of billions of wirelessly connected products, we need to find ways to simplify the process and lower the cost of deploying certified products. This is a global issue, but if solved, would greatly accelerate the deployment of custom, wireless connected solutions.
By Dr. Jun Pei, CEO & co-founder, Cepton Technologies Inc.
Over the next few years, we'll start to see Level 3 active safety features integrated into mainstream cars. Level 3 autonomous capabilities will bring consumers a variety of active safety features such as assistance with accelerating, steering and braking. Whether consumers will get to enjoy these features in 2019 or further down the road will depend heavily on government regulations, since safety is a key concern for any feature rolled out to drivers.
Additionally, many more self-driving pilot tests will take place around the world in the new year. Self-driving tests in 2018, like May Mobility ferrying passengers around cities with self-driving shuttles, served as a great proof-of-concept about how autonomous navigation will change the way people get around and improve traffic flow. These tests will continue to gather important data about how to refine autonomous driving systems, while also getting consumers more comfortable with the idea of self-driving cars.
At the same time, automakers and OEMs will start placing bigger orders for lidar solutions, which serve as a big test for lidar players. Many companies aren't yet ready to meet the high-performance needs of the transportation industry at a mass scale. These factors will lead to significant consolidation of the industry in 2019. Some lidar companies will be sold to bigger players, merge with other companies or will even fold if they cannot continue to compete. However, a handful of companies will have a tremendous opportunity to take advantage of the blossoming lidar market and will play a pivotal role in ushering in the autonomous revolution.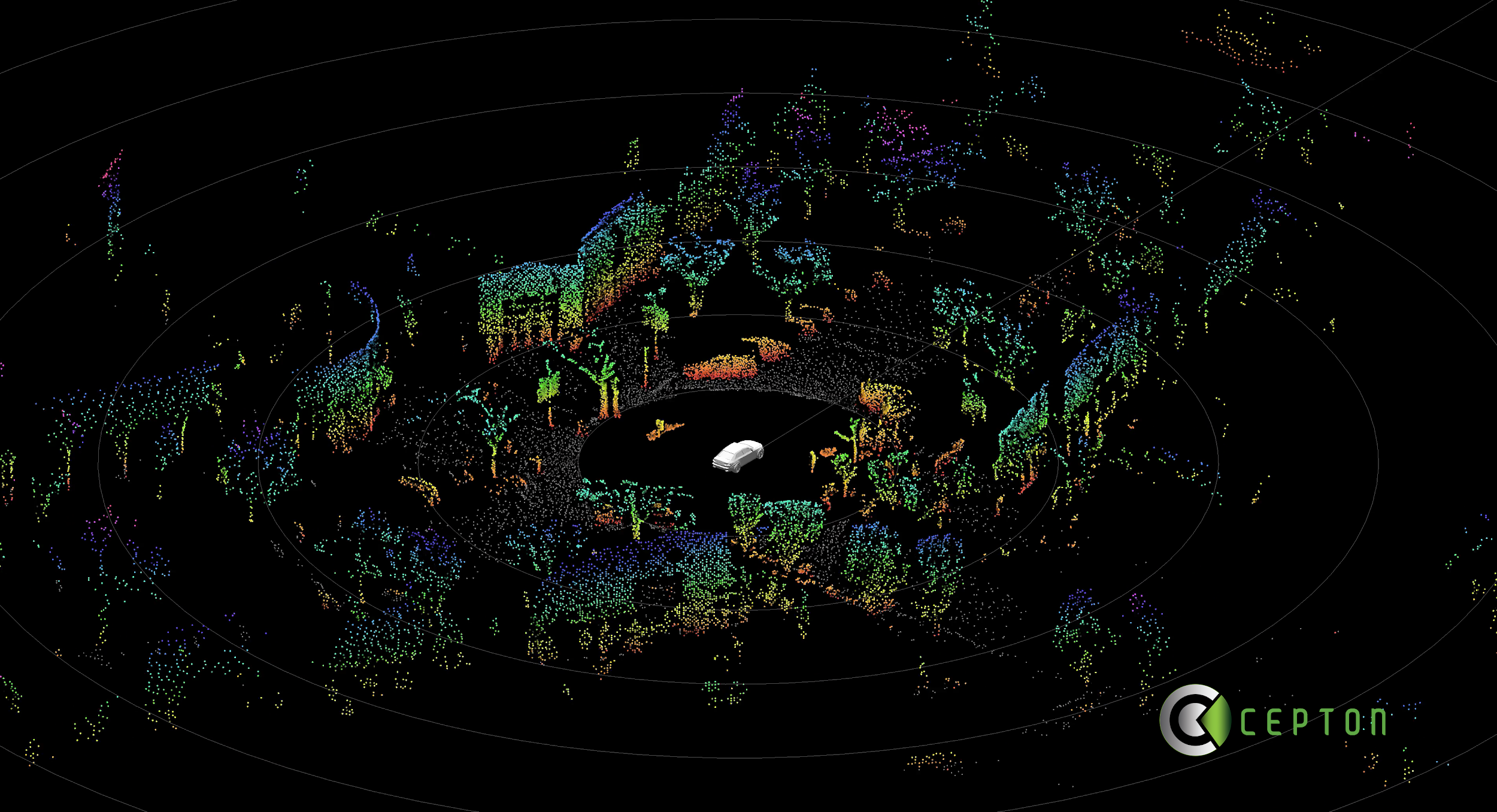 By Morné Erasmus, CommScope
Smart communities will enrich the lives of residents and make local governments more efficient in responding to their citizens' needs. From security to convenience to revenue generation, smart city applications will change the way cities operate and the way we live and work. But it all starts with connectivity—smart city residents, vehicles, systems and applications must be connected, and in most cases that involves fiber infrastructure. There are three key trends that will impact smart cities in 2019. Let's take a look.
Longer-term planning
Companies have traditionally built out specific, siloed applications like surveillance cameras, smart lighting or traffic sensors, but for 2019 they will start to take the longer view and think about building a basic infrastructure to support all smart city applications. It only makes sense; otherwise, the city is digging up the same streets every year or so to add infrastructure for each new application. For example, one city installed basic security cameras on light poles but did so without installing fiber connectivity that would enable adding small cells to those poles or implementing facial recognition applications for the cameras. Now, the city must upgrade its light pole connectivity network—a painful and costly process.
To avoid having to upgrade networks in the future, city planners are now educating themselves about future possibilities, consulting with IoT vendors and network connectivity vendors, and working to develop a plan for the long term. For example, Stockholm as well as Chattanooga, Tenn. and Lincoln, Neb. have built high-speed fiber networks around their cities with enough bandwidth to support new IoT devices and applications well into the future.
Overall, data connectivity is becoming the "fourth utility" in cities—it's a must-have to do business, and cities are recognizing this. Connectivity in homes and businesses is a competitive advantage for cities, and they are rushing to implement it.
Creative financing
Like water, gas, and electricity, cities don't always deliver the service, but they enable construction of the basic infrastructure that delivers the service. We're starting to see more projects that combine government funding with public/private partnerships. In Europe and elsewhere around the world, many national governments are mandating and providing funding for large fiber build-outs. In North America, service providers, developers, and local utilities are deploying parts of the civic connectivity infrastructure while the city facilitates permitting and planning for construction.
Electric utilities are in a unique position to deploy fiber infrastructure because they already own rights-of-way and have existing overhead poles or underground conduits that can accommodate new fiber so that they can deploy fiber more quickly and at a lower cost. In some cases, cities in North America are funding or partnering with local power companies to build out the "Middle Mile" of the fiber network (Figure 1)—the part from central offices or other distribution hubs to neighborhoods or business parks. Middle-Mile networks are the most common municipal model due to less risk, the decreased cost of deployment and the ability to lease excess conduit/fiber to private providers. Cities and municipal organizations building Middle-Mile networks include Centennial, Colo. and Howard County, Md. to name just a few.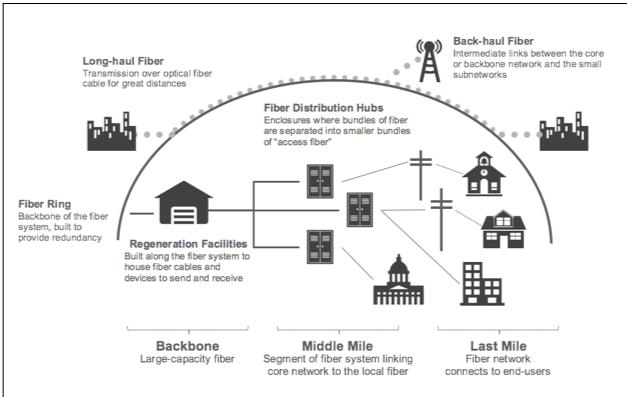 In many other cases, cities are also building the "Last Mile" that connects customers, often in partnership with local municipal electric companies. Ammon, Idaho; Hudson Oaks, Texas; and Fairlawn, Ohio; and are deploying last mile connectivity on their own, while Chattanooga, Tenn.; Lafayette, La.; and Longmont, Colo. are partnering with local electric utilities to reach end customers. We see similar trends internationally in Stockholm (Stokab), Netherlands (Reggefiber, Citynet Amsterdam), and Singapore (OpenNet) to just name a few. Carriers are also building their own Last-Mile networks, and 5G fixed wireless access will play an increasing role in delivering this connectivity for them—Verizon has already launched 5G wireless access trials in several cities in 2018.
2019: CTIA Cybersecurity Certification will Shake Up and Secure the IoT
By Oleg Pachkovets, director of technical sales, IoT, Gemalto
The "Wild West" of the IoT could be settled in 2019 as CTIA's new Cybersecurity Certification framework will set a minimum standard for security by design, finally answering the calls of many in the digital security sphere to stop rushing woefully insecure products to the market. The new framework will give enterprise, government and consumer buyers of IoT devices a trustworthy metric by which they can evaluate device security, which should add some pressure to manufacturers to adopt the new standards more quickly.
It's great timing for significant improvements to connected devices' resilience against attacks that in recent years have spawned damaging botnets and empowered quieter varieties of data breaches. Digital connections of physical infrastructure are accelerating rapidly, so the challenge of protecting systems that support cities, commerce and daily life has never been as multifaceted, nor have the stakes ever been higher—cyberattacks that propagate across the globe inflict similarly global economic damage.
CTIA's standards will help cities and businesses create a root of trust absolutely necessary for securing smart city applications. Connected cars, infrastructure and other smart city upgrades that rely on today's LTE networks will need to meet CTIA's highest threshold for certification to be effective and safe for public use. This top-level certification requires devices to have globally-unique IDs which can be used for stronger encryption and access controls that will keep malicious actors out of critical infrastructure systems and away from potentially sensitive or valuable data.
While the current testing plan for CTIA certification doesn't include standards for 5G devices, widespread adoption of the today's standards could help establish a new, industry-wide commitment to security by design that will benefit 5G networks in the future. As 5G-ready IoT devices with more edge computing capabilities come to market, the current standards will be updated with 5G-specific criteria to help protect information used and created by next-generation IoT services.
Some of those futuristic services might even be launched in 5G test cities this year; those cities and others making targeted smart city investments in 2019 should demand from vendors compliance with the highest level of CTIA's security framework. The requirements for always-encrypted data, tamper-proof hardware, and secure, regularly-updated software will help cities and partners in private industry stay confident that they're building a secure foundation for smart city advancements.
Ashutosh Dutta, founding co-chair, IEEE Future Networks
The future of tech and engineering in telecommunications and applications is an evolutionary, step-wise process with a time-line of three years, five years and 10 years. 2019 will mark the first year of this evolutionary process that will witness the emergence of mobile broadband and ultra-low latency applications. As 5G standards start getting defined, and operators begin to deploy 5G networks, end users can begin to enjoy enhanced mobile broadband, massive sensing, and massive control type applications. Network Function Virtualization and Software Defined Networking will add resiliency and flexibility to the network and help support these types of applications. In the short term, there will be co-existence of 4G and 5G networks as the operators would like to take advantage of the existing installed 4G base. 5G technologies such as Cloud RAN, Mobile Edge Cloud, and Network Slicing will gradually begin to be deployed to support multi-tenant applications in a scalable manner. Mobile Edge Cloud will also enable ultra-low latency applications such as remote surgery, e-health, connected cars, autonomous driving. Government applications, first responder and tactical network communities will take advantage of 5G and beyond technologies for various public safety and defense sectors. There will be tremendous development by the vendor community to reduce the form factor of 5G user equipment that will usher in the widespread use of mobile 5G. 5G technologies will offer opportunities to make networks more secured at the same time additional security controls are needed to take care of any increased risks introduced by 5G networks. Standards bodies including IEEE, 3GPP, IETF, NGMN, and ITU will continue to ratify standards, collaborate and develop use cases to support industry verticals. 2019 will witness the emergence of 5G testbeds and trial deployments that will pave the way for widespread deployment of 5G technologies. We will see an increased amount of collaboration among the research community, vendor community, service providers and other industry verticals to help accelerate 5G deployment. There will also be an increasing demand for education and training for 5G and beyond technologies.
By Laird Connectivity
The Breakout Year for Real Cellular IoT Implementations
The much-heralded rise of 'Things' taking over the global LTE networks from our own insatiable demand for high-speed cellular access hasn't quite taken off as expected in 2018. Sure the network carriers have continuously made announcements with a non-stop stream of launches and trial sites, but real-world implementations, in volume, have been thin on the ground. This is all set to change in 2019—as the ground work has been done. The network operators have scaled the CAT M1 and NB-IoT availability in the different geographic regions with device makers' trials and proof of concepts now turning to into robust, tested, mass production rollouts. Watch out for LTE really delivering on the T of IoT in 2019.
Indoor Real-Time Location using Bluetooth
This will be the year of more accurate and repeatable calculation of indoor positioning using Bluetooth beacons and tags.
Given GPS doesn't work in buildings, geolocation has been tried using Bluetooth to provide proximity or spatial coordinates. The former provides a subjective 'the object is nearby' and the latter attempts to provide position similar to GPS.
Until now, the only physical measurement has been a low resolution, nonlinear, RSSI of the radio signal. This is good enough for proximity detection. However, positional XYZ has required multiple RSSI measurements averaged over time, which is susceptible to false indications that arise from multipath reflections.
We will see a new physical measurement called Angle of Arrival or Departure (AoA / AoD) of the radio signal that, along with RSSI, will facilitate better geolocation.
The Emergence of 802.11ax and improved security with WPA3
802.11ac Wave 2 is the current gold-standard for WiFi connectivity, but 802.11ax is hot on its heels for WiFi superiority. 802.11ax is a complete overhaul for WiFi; bringing a load of new features that focus on spectral efficiency, network capacity, and reduced power consumption. 2019 will be a crucial year for 802.11ax as infrastructure and handsets adopt the new technology.
WiFi security hasn't changed much since 2004 when WPA2 was released. That is all about to change with the announcement of WPA3 for both personal and enterprise networks. WPA3 introduces new security features such as SAE (Simultaneous Authentication of Equals), AES 192bit encryption, and 'Suite B' authentication. Some of these new WPA3 features require updated hardware, but don't be surprised to see WPA3 enabled devices make their debut in 2019.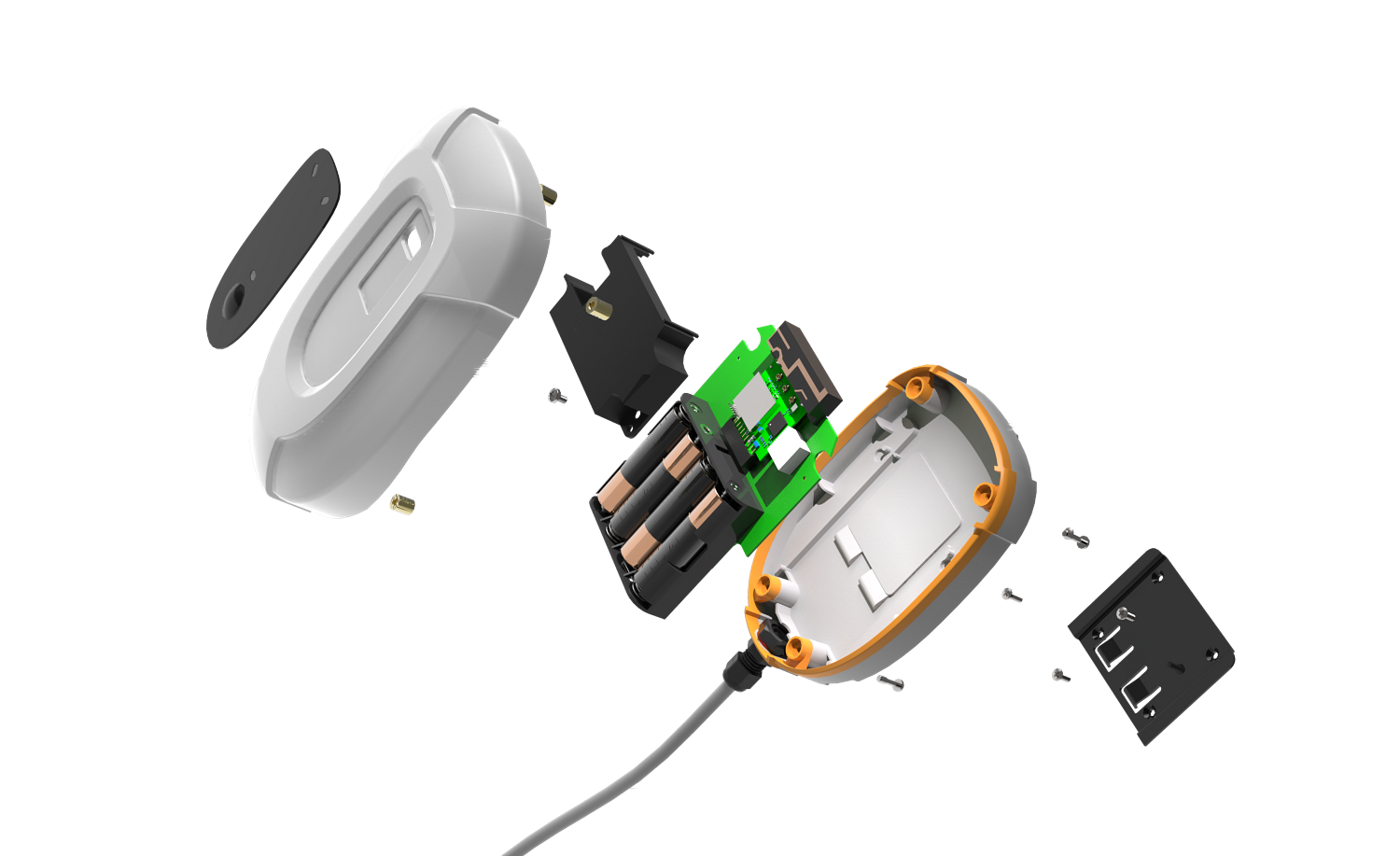 The new 5G standards have arrived but, what can we expect in 2019 for these new standards?
By Ken Karnofsky, senior strategist for signal processing applications, MathWorks
Standards keep on evolving—The new 5G standards aren't set in stone and will continue to evolve. There's been a huge amount of ambiguity around what 5G entails, but those in the industry will need to keep up and anticipate the further evolution of 5G in the coming years.
Ready, steady, go!—Wireless design teams will now be expected to move even faster from R&D into the market-ready stage. But these engineers will need to overcome a major design challenge: adopting 5G requires them to verify that their product designs can conform to or co-exist with the new, complex standard. R&D will need to swiftly educate themselves on the new guidelines and realise that there is steep a learning curve which will take time that must be built into their development plans.
Transformation tech for product design teams—Very few companies have adequate resources or in-house expertise to understand and implement a 5G-compliant design. 2019 will see an influx of technology for design teams to help them. Designers will be able to get an early start on predicting and customising the performance of their systems with algorithms and system design that meet and exceeds 5G standards specifications.
Reinvention of RF and antennas—Companies that make RF components or antennas cannot ignore the new 5G standards and will need to understand how their products will fit in with new networks. This might be tricky as they have lower expertise in wireless technology as traditionally they have got their expertise from measurement companies. New 5G modelling software will help them to test designs and simulations to avoid unwanted costs further down the line.
Dawn of new design modelling—We will see a huge overhaul of the testing and validation stage. For example, in the past, the digital part of RF systems were designed in isolation and then tested in the field, but because 5G operates at higher frequency, this practice just won't work. New modelling tools for engineers will be used to overcome this problem, meaning testing and validation periods will be kept shorter and cheaper.
By Dave Atkinson, director of business development for connected mobility solutions, Molex
As we look to 2019, the connected mobility industry continues to set its sights on developing an autonomous vehicle for everyday use, one that brings together the benefits of autonomous driving with the comforts and convenience of today's connected mobility, all without compromise in performance or space.
To make that happen, our industry needs to focus on continuing to develop, hone, and advance the various technologies contained within an automotive Ethernet network.
Securing that network will be a key focus of the coming year. As vehicles become more connected—and certainly as they become autonomous—they become more vulnerable to cyberattacks. The ability to deliver a solution capable of supporting superior signal integrity, secure data transmission between multiple hardware and embedded software systems, and data prioritization amongst multiple systems is the key to realizing truly intelligent vehicles. And none of that can occur in an unsafe environment.
By Ian Campbell, CEO, OnScale
5G Will Reach Critical Mass, But NOT in 2019
On the surface it would seem like 2019 is "the year of 5G." Telco companies, like Verizon, have made headlines for activating the "world's first" 5G network in 4 U.S. cities and Samsung is rumored to be releasing its 5G enabled smartphone as early as Q1 2019. We all want 5G smartphones that can live stream high-definition pictures, 5G augmented reality gear or 5G drones that can broadcast 4K video from anywhere on the planet, but at OnScale, we believe the 5G device market is actually years behind the reality of widespread adoption. For 5G mobile devices like smartphones, the challenge engineers' face is miniaturizing and optimizing the performance of the radio frequency front end. The RF front-end module consists of filters, amplifiers, and switches to manage gigahertz RF signals. Filters for 5G bands are especially challenging to optimize, and in a 5G smartphone, there will be dozens of these tiny filters. Engineers require sophisticated tools for simulation and optimization to be able to truly optimize RF filters and advance 5G smartphones to a point where 5G can begin to reach critical mass. This will happen in the future, but is unlikely to happen in 2019.
5G Will Make our Cities Smarter
From fully autonomous connected cars to the explosion of potentially trillions of IoT devices that are expected to enter the network over the next 10 years, 5G has the potential to bring today's emerging technologies to the mainstream. We expect major U.S. cities of the future to have the infrastructure to support cars, buildings, people and things as they all communicate and interact with each other in real time, with very low latency.
5G Benefits for the Enterprise Market
5G will open up tremendous opportunity for enterprise companies over the next 3-5 years. One example: since 5G is expected to process and deliver data at exponentially fast speeds, digital marketers will have the opportunity to deliver offers to customers on their devices instantly as well as reach consumers on more connected devices, faster than ever before. Another example is the use of AR/VR for customer trials of products rather than as novelty experiences. 5G will create an even bigger data deluge than we've seen with the first rise of IoT. Drawing insights and safeguarding this vast amount of data will create tremendous opportunities for data/analytics and cybersecurity companies.
Our Relationships with Our Phones Will Evolve
Cell phone billing models will shift beyond data usage since 5G will process more data than ever before. Consumers will be more connected to brands, devices, cities, surroundings, and cars more than ever before. Cell phones will be a gateway for other unique location based services like VR/AR.
Will 5G Networks and Devices Disrupt Apple's device Business?
Apple has indicated that they plan to be a follower in 5G (just as they were for 3G, 4G, and LTE). Apple is committed to making the best possible smartphones, which usually means waiting on new technology launches until the underlying tech is bullet-proof.
5G and Edge Computing
5G isn't just about increased bandwidth or throughput. It's also about adding many more devices to the network. 5G sensors and edge computing will enable a wealth of new applications like smart cities, industrial automation, AI-enabled navigation, and route planning.
What Lies Ahead for Microwave and mmWave in 2019?
By Liam Devlin, CEO, Plextek RFI
5G will continue to feature strongly in both R&D and product announcements during 2019. The results of the first operational mmWave 5G systems will start to become available, and implementation and operational strategies will be adopted. We anticipate that linearization techniques such as Digital Pre-Distortion (DPD) and envelope tracking (ET)—both of which are used extensively in LTE—will prove to be less practical with the wide channel bandwidths that will be available with mmWave 5G. Instead, we expect to see increased interest in analog predistortion for improved linearity across broad channel bandwidths—this is an area where we have a number of ideas under development.
GaN technology will also continue to increase its grip on the commercial power amplifier market. It is already penetrating the market for cellular base-stations and sub-6 GHz 5G. These applications often require high linearity as well as high output power, and Doherty solutions are proving a popular design approach.
The availability of shorter gate length GaN processes, suitable for operation at mmWave frequencies, will increase throughout 2019. This will lead to further innovation and product announcements for mmWave GaN PAs for point-to-point link applications, Satcomm and 5G. The options for 5G backhaul will start to crystalize. The increased data density required by 5G systems will makes fiber an attractive option, but some form of wireless backhaul will inevitably be required. In the first instance traditional microwave links will be used, but ultimately a move to higher frequencies such as E-band (71-76 GHz and 82-86 GHz) will be necessary. To this end we expect the requirement for E-band radio links to grow and the required channel bandwidth/data-rate to increase.
By Jennifer Gilburg, senior director of strategy, Sensor Solutions, TE Connectivity
IoT has been discussed quite a bit, and its implications provide a variety of efficiencies, but the path and scope of IoT changes still seem very unsettled—particularly for design engineers who must fully understand and embrace the changes in how to best leverage them within new designs. As our world becomes increasingly connected, is 2019 the year of the sensor?
In a recent survey we conducted among 180 design engineers, we uncovered various application and design methods and identified common challenges that exist across the ecosystem.
First, 5G will continue to expand the proliferation of IoT. With the ability to connect to thousands of devices at exceptionally fast speeds, we anticipate 5G will have a significant impact on IoT applications. Don't just take it from us, more than half of respondents believe the advent of 5G will mean getting data faster and that, in turn, will result in new applications within the IoT space.
Second, engineers see several areas that they expect to dramatically shape IoT including the ability to capture different kinds of data, gathering more data faster from applications, in addition to lower current consumption in IoT devices enabling networks to reduce power consumption overall and therefore also diminish strain on data transmission.
However, we learned that engineers still think IoT requirements are not being fully met in several areas including hardware endurance, measurement accuracy, sensor intelligence, processing speed, and cloud analytics.
It goes without saying that with IoT expecting to evolve into what experts predict will be a pervasive network that connects virtually every aspect of our lives, there are still major challenges that design engineers need to overcome when designing for IoT.
One of these challenges includes finding the right hardware and connectivity. This is not surprising given that today there are multiple wired and wireless options to connect IoT devices. All these connectivity standards and technologies serve valuable purposes yet taking on all of those standards from WiFi to Bluetooth to Ethernet is a significant undertaking. Other challenges include security, developing the right software as well as cloud computing issues.
With the growth of connected things continuing to expand in the next five to ten years, choosing the right sensors is of utmost importance. While IoT networks and data analytics get a lot of attention, a connected ecosystem is contingent on the persistent current of data and power that must be sourced through sensors.