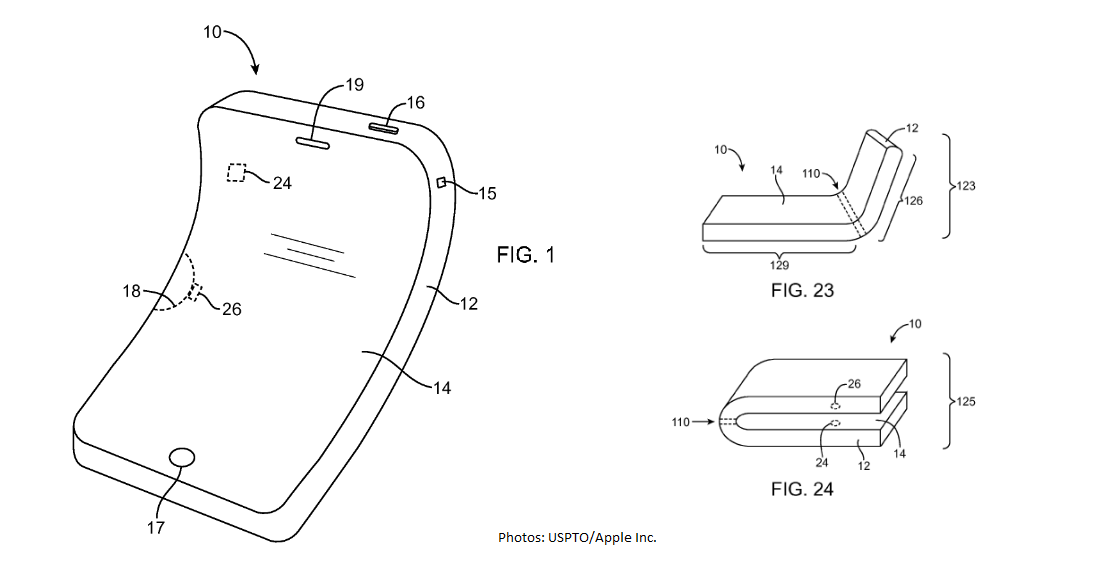 Oh snap!…or maybe not? It appears iPhone of the future just might be a little more forgiving that we're used to.
Apple recently filed patents for "flexible electronic devices" that would be more resistant to damage from drops.
According to the patent, which was published by the U.S. Patent and Trademark Office on Tuesday, the bendable device would come equipped with a variety of flexible components, including a flexible display, flexible housing, flexible batteries, and flexible printed circuits, among other things.
"Flexible electronic devices may be more resistant to damage during impact events such as drops because the flexible device may bend or deform while absorbing the impact," Apple wrote.
But in addition to providing drop protection, Apple said the flexible devices may enable new ways for users to interact with their device. For example, Apple said, the device could be configured so that a twist could turn the device on or off, make it enter active or standby mode, answer a call, start an application, or complete a number of other functions.
Apple has also laid out the possibility of a tri-fold device that incorporates both bendable and rigid components. Both devices, Apple said, could be folded for storage.
Apple's patent envisions the device enclosed in a flexible housing material made out of "plastic, thin glass, fiber composites, thin metal (e.g., aluminum, etc.), fabric, silicone, other suitable materials, or a combination of these materials."
The display, Apple said, would be made of multiple layers that may include a touch sensor layer and an organic light-emitting diode (OLED) array. These layers would have a thickness of 10 microns to 0.5 mm or other thickness as suitable, Apple said.
The design seems to bear some resemblance to another bendable phone created by the researchers at Queen's University last month. Dubbed the "ReFlex," the Android device features a flexible OLED touch screen that allows users to experience physical tactile feedback when interacting with their apps through bend gestures.
For now, however, there is no way to tell when – or if – flexible devices like these might hit the market.