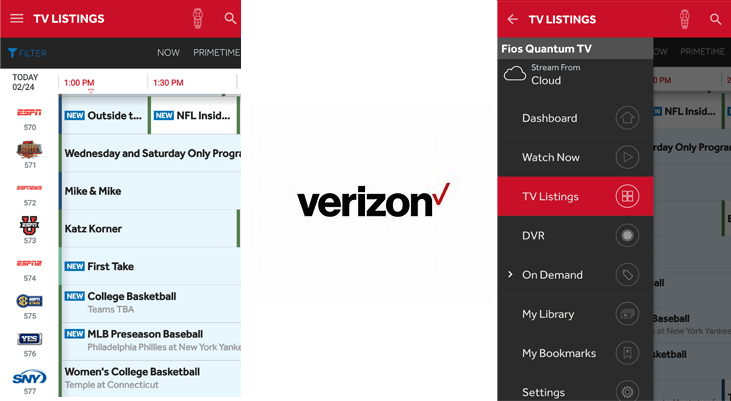 On the heels of the FCC's decision to halt its investigation into sponsored and zero-rating data offers, Verizon said its wireless customers will now be able to stream live and recorded shows via the Fios Mobile App without using their data allowance.
In a Thursday announcement, the carrier said Fios Internet and TV subscribers who also have Verizon mobile service can now watch more than 140 live TV channels, recorded DVR shows and movies, as well as On Demand titles on the go via the app. Data used for Fios streaming will zero-rated; that is, it won't count against a user's monthly allotment. Customers wishing to take advantage of the data-free content will need to download the latest version of the Fios Mobile app, Verizon said.
According to Verizon, the shift will add value to its 5GB, S, M, and L plans by offering up free content for those who remain data constrained.
The offer is similar to AT&T's "Data Free TV" feature that offers its customers the ability to watch content on the DirecTV app with no impact on their data allowance, as well as the carrier's zero-rating offer for DirecTV Now content.
But Verizon's move to offer the same comes about a month after the FCC – under new Chairman Ajit Pai – officially closed its investigation into the aforementioned AT&T programs and sponsored data offerings from Verizon and T-Mobile. In a report issued just before former Chairman Tom Wheeler departed in January, the Commission found AT&T and Verizon's sponsored data offers violated the FCC's Open Internet Order. That finding brought with it uncertainty for carriers as to whether their sponsored and zero-rated data offerings would be shut down.
Upon closing the investigation, though, Pai declared that going forward the FCC "will not focus on denying Americans free data. Instead, we will concentrate on expanding broadband deployment and encouraging innovative service offerings."
And it seems Verizon has taken the bit between its teeth and is running with its newfound freedom. It remains to be seen, however, whether this move will help woo in bundle customers who might otherwise be tempted by AT&T's similar offers.