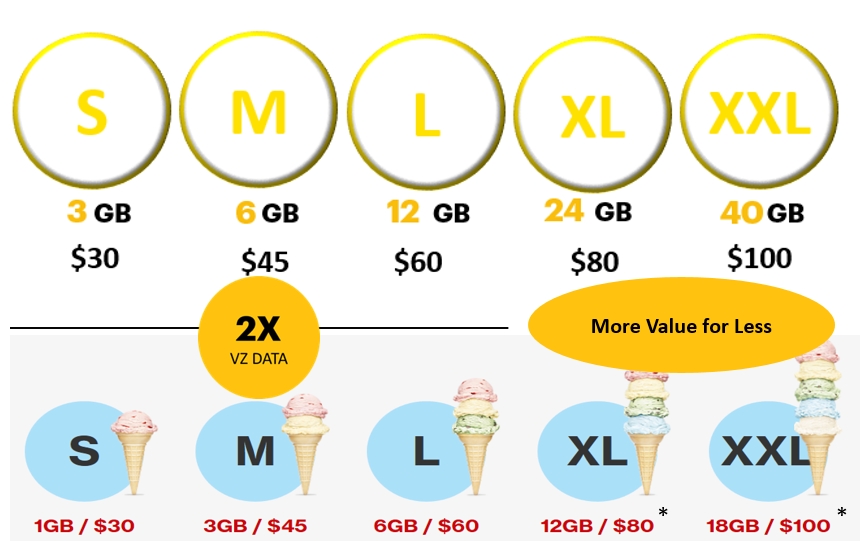 Sprint on Thursday took a swipe at Verizon's limited time data bump with the roll out of a new set of data rich "Better Value" plans.
The plans, which go into effect tomorrow, mimic Verizon's clothing-size labels in six data tiers from XS to XXL. But in a twist, Sprint has doubled the amount of data included in the Verizon plans in its own offerings.
Sprint's Small plan offers customers 3 GB of shareable data for $30 per month to Verizon's 1GB, while it's Medium, Large, X-Large and XXL plans offer 6 GB for $45, 12 GB for $60, 24 GB for $80 and 40 GB for $100 per month, respectively. By comparison, Verizon's corresponding plans offer 3 GB, 6 GB, 12 GB and 18 GB, respectively, for the same costs.
All of Sprint's plans also include unlimited talk and text, with unlimited 2G data when a customer's high-speed data allowance runs out.
"With Sprint Better Choice Plans, we've truly simplified our wireless data share plans," Sprint CEO Marcelo Claure said. "Customers can choose the amount of data they want from extra small to extra, extra large, and then they can add the number of desired additional lines."
The offer corresponds with the release of RootMetrics' latest Mobile Network Performance report, which placed Sprint as third among the four major carriers in the country.
The reveal also follows the unveiling of Sprint's $75 per month unlimited high-speed data plan last week. That offering, which undercut T-Mobile and AT&T's unlimited pricing for one line, also offered two lines with unlimited high-speed data for $120 per month and three lines for $150 per month with the fourth line free.
The promotion appears to be an attempt from Sprint to maintain its third fiscal quarter momentum, which saw the carrier draw 501,000 net additions and produce Sprint's best-ever third fiscal quarter churn figure.