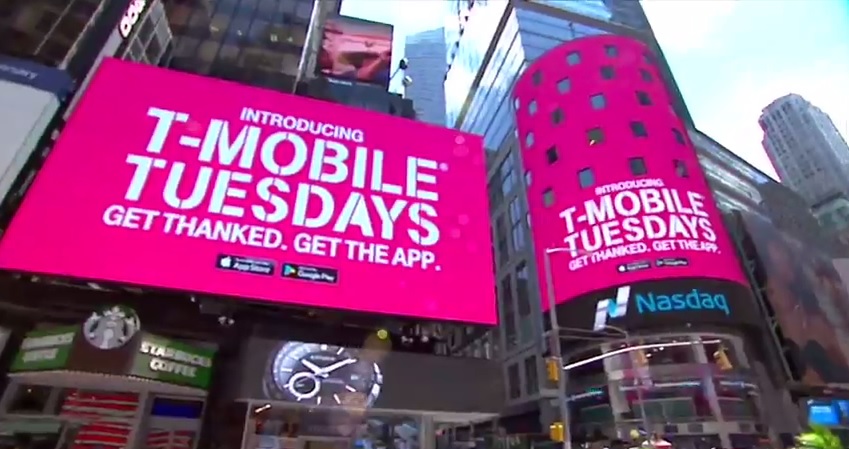 T-Mobile is giving away free stocks, in-flight Wi-Fi and weekly prizes as part of its Un-carrier 11 move.
Following the theme "Get Thanked," T-Mobile on Monday unveiled a series of customer appreciation offerings, including stock options for consumer account holders and a T-Mobile Tuesdays giveaway campaign.
Starting tomorrow, T-Mobile COO Mike Sievert said new and existing Un-carrier customers will be able to secure a free full share of T-Mobile stock. The stock will be available to the primary account holder on postpaid consumer accounts only, Sievert said.
T-Mobile CEO said the move will turn the carrier's customers into owners. "You now own the Un-carrier revolution," Legere said.
Those interested in getting a bigger piece of the pie will be able to do so by referring friends. Legere said T-Mobile customers who refer a friend who opens an account will receive another share for up to 100 shares in a year. Those who have been T-Mobile customers for five years or more will get two extra shares for each referral for up to 100 shares in a year, Legere said.
Sievert said customers can claim their share over the next two weeks by opening a free brokerage account. There is no fee to claim the share and there will be no fee to sell or transfer the free shares in the first year, Sievert said.
T-Mobile said the company initial giveaway estimate is one million shares, but said that figure is subject to change. The giveaway will not be dilutive to any existing shareholders, and has been accounted for in the company's guidance for the year, T-Mobile said.
T-Mobile Tuesdays
T-Mobile said it will also thank customers through a new weekly giveaway campaign called T-Mobile Tuesdays.
By downloading the T-Mobile Tuesdays app from the App Store or Google Play, Legere said Un-carrier customers will be able to win free prizes each week, including free movies, food, subscriptions, ride-sharing and more. Partners for the program will include Dominoes, Wendy's, Vudu, Lyft, Fandango, Buffalo Wild Wings and more, T-Mobile said.
The prizes will be awarded in the T-Mobile Tuesdays app and can be redeemed through the partner company's app or website, T-Mobile said.
The rewards program will be available to both pre-and postpaid T-Mobile consumer and business customers, but not MetroPCS users, Sievert said.
Legere called the campaign "a major investment we're making in our customers."
According to Legere, T-Mobile Tuesdays will kick off tomorrow with an offer of a free pizza from Dominoes, free frosty from Wendy's and a free movie rental from Vudu. Legere said the total value of the first week's prizes is $31.49.
Legere said there will be recurring and changing gifts every week which can be claimed by customers through the app. For some of the offers, Legere said T-Mobile will be fronting the cost of the rewards, but said others will be offered through a partnership.
In addition to smaller recurring gifts like the pizza and frosty, Legere said T-Mobile Tuesdays will also include "huge prizes" including an Inca trail hiking trip in Peru, a $10,000 shopping spree with a stylist and a Warcraft movie viewing party, complete with a party bus and spots for 40 friends.
Legere said T-Mobile expects the number of participating brands to expand "considerably."
Sievert said the initial partners for T-Mobile Tuesdays "came out of the woodwork" to join the program. The companies are not getting customer information in return for their participation, he said.
The T-Mobile Tuesdays reveal follows AT&T's introduction of its "thanks" loyalty rewards program last week.
On a media call following the Un-carrier 11 reveal, Legere said AT&T's offer was a "shoddy, thrown-together" attempt to beat T-Mobile to the punch after rumors of its giveaway plans surfaced in recent weeks. Legere said it was proof that T-Mobile has become a major industry influencer, and now has the competition responding to rumors as well as its actual disruptive moves.
When asked how the T-Mobile Tuesdays offer might impact the company's quarterly net phone additions, Legere said the Un-carrier has accounted for the impact of the program in its guidance. Legere said there is a chance the offer will be "uber successful," but said the company is not making any changes to its forecast.
In-Flight Wi-Fi
The third element of T-Mobile's Un-carrier 11 "Get Thanked" trifecta was the introduction of a free hour of in-flight Wi-Fi through Gogo.
T-Mobile said all customers will now receive a free hour of Wi-Fi on all domestic Gogo-enabled flights starting on June 13.
Customers already have access to free texting on flights through Gogo, but the Un-carrier said it is also enabling in-flight messaging on iMessage, Google Hangouts, Viber and WhatsApp.